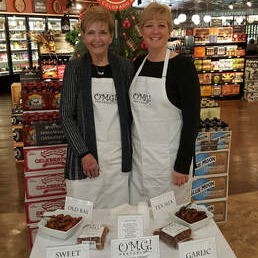 OMG Pretzels
Contact: Tammi Riedl
Address: 1361 Auburn Road Lincoln, CA, 95648
Email Address: Tlriedl@gmail.com
Phone: 916-760-8050
About Us
OMG! Pretzels began as a cool new way to provide fun and tasty snacks for our family. Over the years more people began asking for them and in 2014 we officially launched the business.

We named our company "OMG" because each time someone pops one of our intense Ridiculously Delicious Gourmet Flavored Pretzels into their mouth the words "Oh My Goodness" come popping out. But don't just take our word for it, try them for yourself. We guarantee neither you nor your customers will be disappointed and you too will say "OMG" every time you pop one.

OMG Pretzels is excited to partner with Tammi Riedl of Lincoln Hills Farm, long time family friend and founder of the Placer Farmer's Marketplace, to be our first California merchant offering our mouthwatering snacks!